Miss Aviation Philippines 2016 Bets Officially Presented
Miss Aviation Philippines 2016 Bets Officially Presented
By Raymund Thom L. Golez | Managing Director & Features Editor
Photo courtesy: GMA, Miss Aviation PH
Fifteen official candidates of the 2016 Miss Aviation Philippines were officially presented to the members of the Philippine media on January 19 at the press presentation held at the Cineplex 3 of Edsa Shangri-La Mall in Mandaluyong City.
The roster of this year's candidates were composed of student pilots, flight attendants, avionic technicians, and college instructors, among others. Bringing together the
most beautiful and charming Filipinas from different sectors in the aviation-tourism industry, this pageant aims to inspire the youth to pursue a career in aviation, empower the women in the industry, and support the country tourism initiatives.
"Everything's better and little higher when it comes to a lot of things for this year's edition of Miss Aviation Philippines pageant. The show will be exciting and we'll be taking a different statement this year, so that's what you have to watch out for", declares Ms. Morena Carla Cabrera Quimpo, National Director of Miss Aviation Philippines. "It's always a tradition for us to fly the girls and there's more getaways also, so basically we're happy that we're growing".
Quimpo, who hosted the event, said that this pageant, now on its second year, aims at encouraging young people to pursue careers in aviation and tourism and it is also a
great way to recognize the women's immense role in the industry. "Women in aviation are not merely defined by good looks, they also have the brain and heart to succeed and shape the future of aviation and aeronautics", Quimpo says.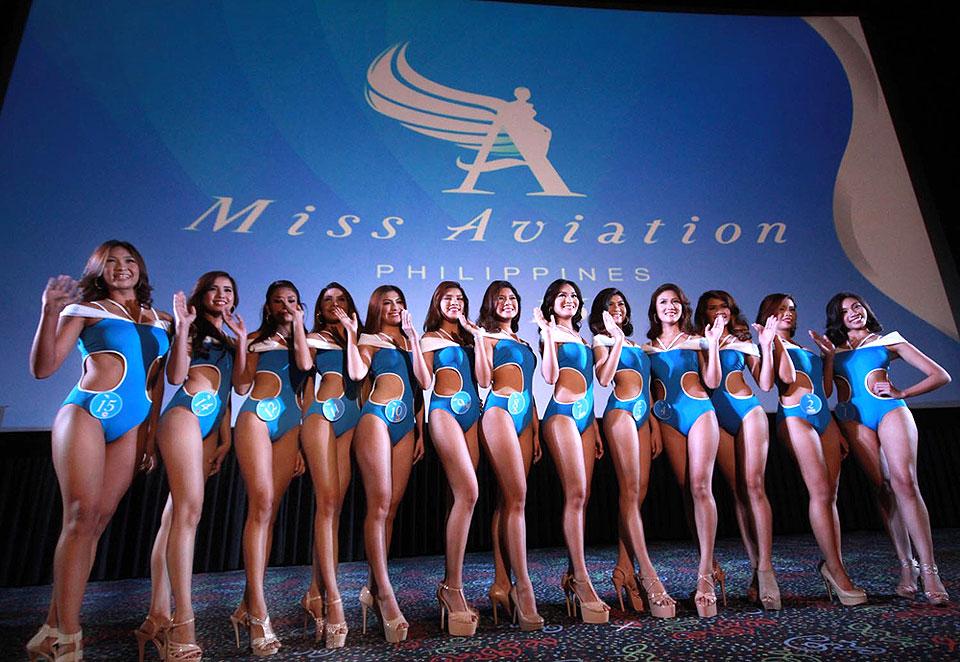 Donning the stylish sky blue-and-white swimsuits, the finalists who flashed their best smiles and posed before an impressed crowd were Maria Gianne Itaralde, Catherine Cubinar, Katrine Gabriola, Cherry Rose Fernandez, Zandra Magsino, Katelene Joy Basco, Maricris Aldanese, Carina Aguinaldo, Airish Mae Apostol, Justine Anne Embate, Casey Ann Austria, Kristine Malicsi, Trizia Abaya, and Reichelieu Emory Santos.
The advocacy of Miss Aviation Philippines to empower women in the field of aviation and aeronautics is supported by the Philippine International Hot Air Balloon Fiesta (PIHABF), one of Asia's longest-running sports aviation events that annually gathers aviators from the local and international scenes.
"We are honored to be part of Miss Aviation Philippines. We believe in its commitment to empower women in the field of aviation and aeronautics. We hope that the competition will help Filipinos better appreciate the aviation industry and understand its important role in fostering the country's social and economic development," says PIHABF event director Capt. Joy Roa.
The winner of Miss Aviation Philippines 2016, who will take home P70,000 in cash plus a round trip ticket to any destination in Southeast Asia, will grace the 20th PIHABF happening in Clark, Pampanga on Feb. 11-14, 2016. The two runners up will receive cash prizes worth P20,000 and P10,000, respectively. The pageant is also being supported by the Civil Aviation Authority of the Philippines, the Civil Aeronautics Board of the Philippines and Clark International Airport.
The grand coronation night will be at the Rigodon Ballroom of Peninsula Hotel on February 9, 2015.