PH Beauties Nelda Ibe and Elizabeth Clenci conquered Miss Globe and Miss Grand Int'l Successfully
PH Beauties Nelda Ibe and Elizabeth Clenci conquered Miss Globe and Miss Grand Int'l Successfully
Report: Raymund Thom Golez | Managing Editor
Photos: JR Noses | Chief Photojournalist & Photo Editor
Photos courtesy: Miss Grand International FB, Miss Globe FB
TAMPA, Florida – The much-waited pageant season has officially started and many pageant aficionados are in high spirit nowadays to show and give their full support to their favorite representatives. Known as the 'Best Pageant Fans in the world', the Filipino pageant supporters have started to cheer for their most loved Filipina beauty queens.
True enough, two Binibining Pilipinas 2017 titleholders did not disappoint their Filipino fans by placing high and almost clinched the crown in their recent international pageant stint.
Binibining Pilipinas Grand International 2017Elizabeth Durado Clenci won as Second Runner Up in the Miss Grand International 2017 after giving a very stellar performance in the speech segment, swimsuit, evening gown, and final question and answer.
For the second consecutive year, a Filipina almost won the crown after Nicole Cordoves missed it by a hairline, finishing First Runner-up last year. In 2015, Parul Shah won as Third Runner-up in the pageant held in Thailand.
Clenci is the only Asian who made it to the Top 5. Peruvian Maria Jose Lora was crowned at the pageant night held in the Vietnamese city of Phu Quoc. Miss Venezuela Tulia Aleman came in as First Runner-up. Another Latina placed Third Runner-up, Brenda Azaria of Puerto Rico. While Miss Czech Republic, Nikola Uhlirova, finished as the Fourth Runner-up.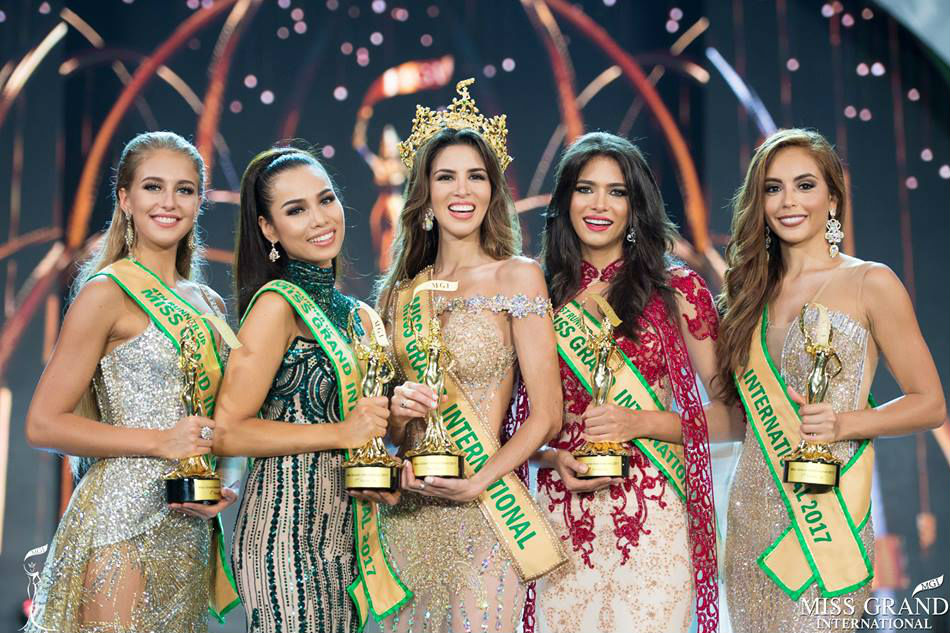 In her speech on peace, this is what Clenci said: "The fight for peace is far more significant than any other and one that holds dearly to my heart. For we all know the horrors of war and the many that fighted but a wiser few are willing to fight for peace. Today, I stand here knowing that it is my responsibility to fight for peace and to strive for peace in this world through love, compassion, understanding and education. Tonight, I stand here with all of these women behind me, spreading the message of peace. I'm here to remind you all as Philippine peace ambassador that this is your responsibility too. This is our responsibility… today, tomorrow and for the generations to come."
Full results:
Miss Grand International 2017: Peru
First Runner-up: Venezuela
Second Runner-up: Philippines
Third Runner-up: Puerto Rico
Fourth Runner-up: Czech Republic
On the other hand, Binibining Pilipinas Globe 2017 Nelda Ibe won as First Runner Up in the Miss Globe 2017 pageant held in Tirana, Albania.
Ibe placed second among 53 contestants in the international beauty pageant held in Tirania, Albania early Saturday.
In a post on Instagram, Ibe, who hails from Tarlac, said: "It was an honor and privilege to represent you my beloved country."
Nelda has a Bachelor of Arts degree in English Literature from Tarlac State University and is currently a cadet pilot.
Fondly called "the pilot queen", she wowed the judges with her Sampaguita-inspired national costume designed by Frederick Berches. She also placed second runner-up at the bikini competition.
Other winners at the Miss Globe 2017 pageant include Miss Serbia Elena Latypova (2nd runner-up), Miss Albania Alessia Coku (3rd runner-up), and Miss Cape Verde Simone Heijligers (4th runner-up).
Both Clenci and Ibe underwent rigid pageant training under the guidance and care of the top beauty pageant camp in the Philippines, Kagandahang Flores.
In behalf of Life N Style Central, we congratulate you, ladies, for bringing honor to the Philippines!